Auditing: A Practical Approach with Data Analytics, 2nd Edition
By Raymond Johnson and Laura Wiley
Auditing: A Practical Approach with Data Analytics, 2nd Edition helps students develop a deeper understanding of auditing procedures and learn how to perform a real-world audit, stay up-to-date on the latest audit technology tools, and develop the key skills to become the auditors of tomorrow. Throughout the course, students learn core auditing concepts efficiently through integrated assessment and WileyPLUS Adaptive Assignments, bridging the gap between course topics and real-world application.
Throughout WileyPLUS, students also work through various hands-on cases and data analytics and Excel applications, all of which connect to real-world auditing. These resources help students develop a decision-making mindset and refine the professional judgment and communication skills needed to make real business decisions auditors face every day. In addition, integrated CPA Excel resources with task-based simulations, videos, and assessment that mimic the exam experience help build students' confidence and prepare them for success on the big exam.
Schedule a Demo
Request Instructor Account
Learn Accounting Concepts Efficiently
Adaptive Assignments ignite students' confidence to persist so they can develop critical skills. By continuously adapting to each students' needs and providing achievable goals with just-in-time instruction, Adaptive Assignments close knowledge gaps through scaffolded learning. Powered and refined by the Knewton Adaptive Engine, with more than 15 million users, this new assignment type gives instructors the flexibility and control to create targeted adaptive experiences that match their teaching preferences. With actionable analytics to support student and class intervention, Adaptive Assignments makes teaching and learning more efficient than ever.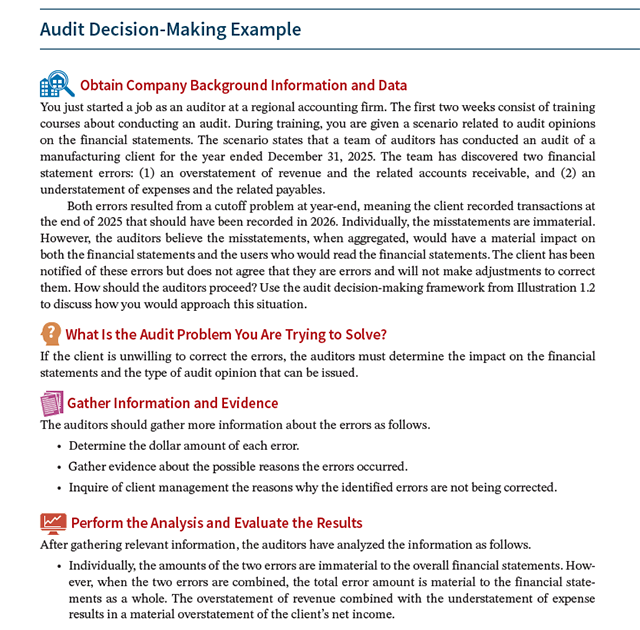 Develop Problem-Solving and Decision-Making Skills
Integrated throughout WileyPLUS, the Cloud 9 Continuing Case with accompanying assessment allows students to apply auditing topics to real-world company scenarios, better understanding the varied responsibilities and skillset required of the modern auditor.
Audit Decision Cases provide a broad review of the audit process within the real-world context and help ensure students' understanding of key chapter topics.
Audit Decision-Making Examples teach students how to identify an audit issue, gather information and evidence, analyze and evaluate alternatives, and draw conclusions.
Audit Reasoning Examples demonstrate the practical application of auditing skills and concepts through brief real-world scenarios.
Develop Data Analytics and Literacy Skills
Help students develop foundational data analytics software skills with Data Analysis Technology Bootcamps, available for Excel, Tableau, Power BI, Alteryx, and SQL. Each bootcamp includes Overview Videos, How-To Videos, and Solution Walkthrough Videos to ensure students have the support they need to learn how to use the software and perform specific tasks, as well as assignable application exercises and data sets to help students demonstrate their understanding of the tool in an accounting context.
Power BI and Tableau Visualization Assignments in WileyPLUS familiarize students with popular data analysis tools they will encounter in the workplace. Students analyze a variety of visualizations available in both software programs, completing assessment questions along the way to check their understanding and ability to interpret different forms of information, and practice making informed business decisions.
Alteryx Cases with Walkthrough Videos build off the Cloud 9 continuing case, either by providing an alternate process to working through the cases or as an extension of the case. Each Alteryx case includes accompanying data sets and walkthrough videos.
IDEA Cases with Walkthrough Videos allow students to practice using IDEA software to analyze data within the auditing context. The new walkthrough videos give students step-by-step overviews on how to use IDEA software. An IDEA casebook and accompanying data sets, provided by Audimation Data Analytic Software and Services, is also available.
Solve Business Problems with Excel
Gradable Excel Assignments develop the Excel knowledge and skills students need by giving them the opportunity to practice using formulas and functions to complete specific exercises in a real Microsoft Excel worksheet. With exercises based on accounting questions from the book, automatic grading, and immediate and detailed cell-level feedback, students build key skills needed to be competitive in today's job market while enhancing their understanding of key accounting concepts.
Build Soft Skills for Job Readiness
You Got This! soft skills module, available to add into WileyPLUS for Johnson Auditing, 2nd Edition, helps prepare students for the workforce in their last accounting course. Students learn essential skills such as communication, team building, critical thinking, and professionalism with explainer videos and advice from industry experts, quizzes, assessment, activities, and animated work scenarios. Based on the National Association of Colleges and Employers' (NACE) eight career readiness competencies, students develop the skills needed to navigate workplace challenges and forge a path towards professional success and satisfaction.
Incorporate Cutting-Edge Topics
Introduce your students to ESG in the accounting context with the WileyPLUS ESG Module, designed to help students understand what ESG is, why it's important, and how it's changing the modern accounting and business world. Students work through each pillar of ESG through lessons on Environment, Social, Governance, and Reporting, along with relatable business scenarios with recognizable companies, access to real-world sample reports, and assignable quiz questions.
What's New to the 2nd Edition
New WileyPLUS Adaptive Assignments effectively close knowledge gaps through a personalized adaptive experience that provides just-in-time instruction, immediate feedback, and remediation to previous learning objectives. With 3 assignment types to choose from (Pre-Lecture, Practice, Review), instructors can leverage Adaptive Assignments in various ways to build their students' confidence and mastery of course concepts.
New Gradable Excel assignments available in WileyPLUS helps develop the Excel knowledge and skills students need to successfully compete in today's job market, while enhancing their understanding of key accounting concepts.
Tableau and New Power BI Visualization Assignments in WileyPLUS build the skills required to analyze and interpret data visualizations, familiarizing students with popular data analysis tools they will encounter in the workplace.
New IDEA Walkthrough Videos help students understand how to analyze data with IDEA software and complete the accompanying IDEA Cases.
New Alteryx Cases with Walkthrough Videos build off the Cloud 9 continuing case and provide an alternate process to working through the cases using Alteryx software. Each case includes accompanying data sets and walkthrough videos.
New You Got This! Soft skills module helps prepare students for the workforce and learn essential skills such as communication, team building, critical thinking, and more. This module is available to include as an add-on in the Johnson Auditing, 2nd Edition WileyPLUS course.
New WileyPLUS Course Collection allows instructors leverage a library of gold-standard pre-built courses that are designed based on learning science. Pre-built courses reflect insights from authors and subject matter experts to provide inspiration for engaging, effective course design and are fully customizable.
Additional medium-level application questions have been added to each chapter of the test bank.
Content Changes
Audit Data Analytics Chapter has moved to Chapter 8 (previously Chapter 7) to allow for Inventory Control Chapters to be taught back-to-back as Chapters 6 and 7, ensuring students understand the concept of internal controls, types of internal controls, and how to test controls before continuing on.
Chapter 13 has split into two chapters (Chapters 13 and 14) to separate out Related Income Statement Accounts.
Updated content will be incorporated within the Integrated CPA Exam once the updated CPA Exam Blueprints from AICPA are released in January 2023.
Updated for new auditing standards on:

Audit evidence.
Auditing accounting estimates.
Audit reports for new ASB reporting standard (SAS 134) and PCAOB reporting standard (inclusion of CAMS) in Chapters 1 and 15.
Information on SOC 1 and SOC 2 engagements and reporting.

Highlighted auditing standard references in margins to increase student awareness.
Greater emphasis on Five-Step Audit Decision-Making Framework review at the end of each chapter takes student through specific steps of the audit process while offering solutions to issues presented throughout the example.
Additional infographics and tables to increase student engagement and understanding.
Additional headings and bulleted/numbered lists to highlight key information for students.
Updated use of real-world company examples to increase student engagement.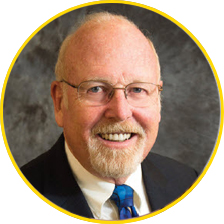 Raymond N. Johnson, PhD, CPA, has taught auditing concepts and practices, financial statement analysis, and a case course focused on developing students' critical-thinking skills at Portland State University for 35 years. He was the first recipient of Harry C. Visse Excellence in Teaching Fellowship and is currently a professor emeritus from Portland State University. He has also taught auditing and accounting at Bond University, The University of Queensland, the Australian National University, and Southampton University. Dr. Johnson is a past Chair of the International Accounting Education Standards Board's Consultative Advisory Group. Previously, he served on the NASBA board of directors for seven years, and he previously chaired NASBA's Education Committee and the NASBA Ethics Committee. He also served on an AACSB Task Force that was responsible for the most recent update to AACSB Accounting Accreditation rules. Dr. Johnson served a three-year term on the AICPA Professional Ethics Executive Committee, which sets ethical standards for CPAs in the United States. He is a former member of NASBA's Standard Setting Advisory Committee and served for seven years on the NASBA/AICPA International Qualifications Appraisal Board. Previously, Dr. Johnson served on the Oregon Board of Accountancy for seven years and was Chair of the Board for two years. Dr. Johnson is a past president of the Oregon Society of CPAs. He has previously served as staff to the U.S. Auditing Standards Board, has written numerous academic and professional articles, and has made numerous presentations at professional meetings.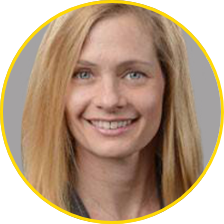 Laura Wiley, PhD, CPA, is the Assistant Department Chair and senior instructor in the Department of Accounting at the E. J. Ourso College of Business, Louisiana State University (LSU). She came to LSU in 1996 and teaches financial accounting and auditing courses. She also leads a study-abroad excursion in the Master of Accountancy program, taking students on educational business trips to Central and South American countries. Dr. Wiley is active in the Society of Louisiana CPAs (LCPA) and has served as the chair of the Accounting Education Issues committee since 2014. She received the LSU Tiger Athletic Foundation Outstanding Instructor Award in 2019 and the LCPA's Distinguished Achievement in Education award in 2015. Dr. Wiley has consulted with large and small companies on accounting-related matters and conducted onsite training sessions for company employees. Over her career, she has also been a presenter at numerous CPE events and published in the Journal of Accounting Education. Prior to coming to LSU, she was an auditor with PricewaterhouseCoopers in Atlanta, Georgia. She earned her bachelor's degree in accounting from The University of Alabama, her master's degree in accounting from LSU, and her doctorate in human resource education and workforce development from LSU. Her research interests are accounting education and financial literacy. She is an active licensed CPA in the state of Louisiana.
1. Introduction and Overview of Audit and Assurance
2. Professionalism and Professional Responsibilities
3. Risk Assessment Part 1: Audit Risk and Audit Strategy
4. Risk Assessment Part 2: Understanding the Client
5. Audit Evidence
6. Gaining an Understanding of the Client's System of Internal Control
7. Risk Response: Performing Tests of Controls
8. Audit Data Analytics
9. Risk Response: Performing Substantive Procedures
10. Risk Response: Audit Sampling for Substantive Procedures
11. Auditing the Revenue Process
12. Auditing the Purchasing and Payroll Processes
13. Auditing Cash, Inventory, and Related Income Statement Accounts
14. Auditing Investing and Financing Activities
15. Completing the Audit
16. Reporting on the Audit

Appendix A: Cloud 9 Inc. Audit