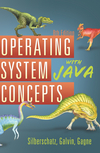 WileyPLUS course:
Operating System Concepts with Java, 8th Edition
©2010
US $80.00 - Interactive textbook included!
This price is valid for United States. Please
Change location
to view local pricing and availability.
WileyPLUS is an interactive online teaching and learning environment that engages computer science students with course material beyond the classroom. Automatically graded multiple-choice questions provide ample opportunity for self-check assignments, and quizzing. Simulators provide demonstrations of operating-system operation. These features give your students the practice they need to operating systems concepts. In addition, relevant and timely learning resources provide students with the tools they need to better understand key concepts and succeed in the course and in their careers.
Easy assignment of homework and quizzes
Automatic grading of multiple-choice homework and quizzes
Assignable simulator exercises
Grade tracking and management
Instant feedback for students on multiple-choice and true/false questions
Visit Wiley.com for more on this textbook:
Instructors
Take a 30 Day Test Drive
Ready to Get Started?
Students
Register for a new class
Use your registration code
or
Buy one along the way